VDO Fuel Supply Unit
Electric next-generation fuel pumps/fuel supply units installed in tanks guarantee a permanently reliable supply of fuel to the engine. They are employed as in-tank pumps for combustion engines, with injection systems for petrol or diesel supply. A return-flow returns unused fuel to the tank.
The primary functions are:
Fuel supply of the individual or central injection system, with specified pressure and throughput, once the in-vehicle voltage has been switched on system pressure retention in the fuel supply line under all operating conditions.
The fuel supply unit generally consists of the fuel pump (some‐ times with swirl pot), a filter and flange with corresponding connections. In addition, the supply unit can be equipped with a lever-type sender and can be used in combination with an immersion tubular-type sender.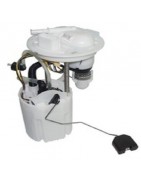 VDO Fuel Supply Unit