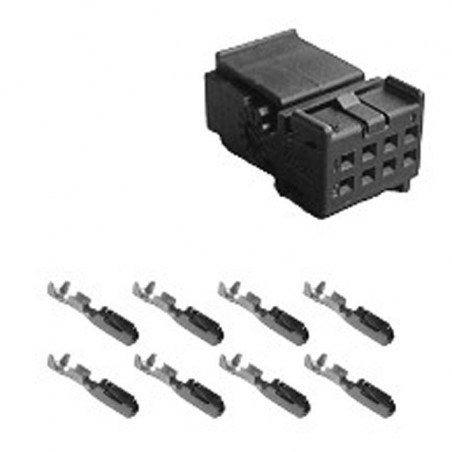  
VDO ViewLine Connector Kit 8-polig
Onderdeel nummer:
VDO A2C59510850
8-polige MQS connector compleet
Fabricaat Hirschmann of Tyco
Met pinnen voor 0.25–0.5 mm2
Retail verpakking 1 Connector Kit
Logistieke informatie:
HS Code: 85367000
Ean Code: 7640178728493
Gewicht: 0.45kg
Beschrijving VDO ViewLine MQS Connector kit 8-polig inclusief pinnen:
De VDO Viewline instrumenten zijn uitgevoerd met een MQS aansluitconnector. Deze connectoren zijn van het fabricaat Tyco of Hirschmann. Ze worden op grote schaal toegepast in automotive en industrie vanwege de betrouwbaarheid en eenvoud in gebruik. Afhankelijk van het ViewLine model wordt gebruik gemaakt van een 8-polige of 14-polige MQS connector of een combinatie van beide. De ViewLine instrumenten in Retail verpakking worden complete geleverd met een MQS aansluitkabel. De VDO ViewLine instrumenten in OEM verpakking worden zonder aansluitkabels geleverd. Draadlengte van de aansluitkabel is circa 50 cm. De ViewLine Ampèremeter is uitgevoerd met 2 extra lange draden voor het aansluiten van de externe shunt. VDO levert naast complete aansluitkabels ook losse connector blokken en connector pinnen om zelf een aansluitkabel samen te stellen. Dit kan als complete connector set of uit losse onderdelen.
VDO A2C59510850 8-polige MQS connector compleet specificaties:
MQS connector eigenschappen:
| | |
| --- | --- |
| Voor VDO ViewLine instrumenten: | Alle series |
| MQS Connector kit ViewLine | Hirschmann - Tyco Female 8-polig inclusief pinnen |
| Uitgebreide info: | Zie downloads manuals en datasheets |
Tyco onderdelen bestelnummers en gereedschap:
Tyco No. 539635-1 Krimptang MQS Connectoren
Tyco No. 1355718-1 Single contacts 0.14 to 0.22 mm2 tin plated
Tyco No. 963729-1 Single contacts 0.5 to 0.75 mm2 tin plated
Tyco No. 539682-2 Passende matrijs voor krimptang
Tyco No. 1355717-1 Strip 0.14 to 0.22 mm2 tin plated
Tyco No. 928999-1 Strip 0.25 to 0.5 mm2 tin plated
Tyco No. 963715-1 Strip 0.5 to 0.75 mm2 tin plated
Datasheet
Serie

Veratron ViewLine Retail

Connector type

Tyco 8-Polige MQS Connector

Categorie

Kabels en Connectoren

Artikel status

Uitloopartikel beperkt leverbaar