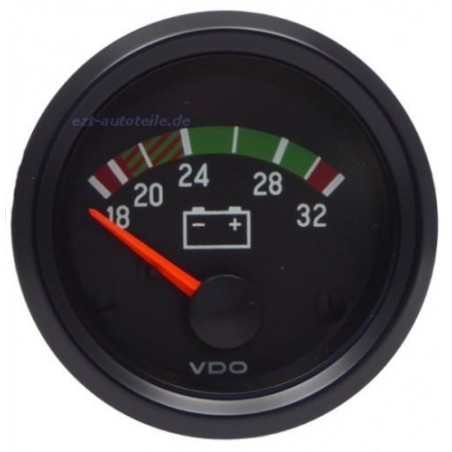  
10 Pieces VDO Cockpit Vision Voltmeter 18-32V 52mm 24V
Part-number:
VDO 332-020-001C
Colour: Black
Panel hole diameter: 52 mm - 2 1/16"
Range: 18 to 32V DC
Operating voltage: 24 Volt DC
10 Pieces OEM Voltmeters
descriptionBekijk documentatie
Logistical information:
HS Code: 90303391
Weight: 0.50kg
Description Cockpit Vision Voltmeter:
VDO Cockpit Vision voltmeters zijn instrumenten voor het meten van de accuspanning en ter controle van het boordnet. De Cockpit Vision serie is ontwerpen om uitsluitend gelijkspanning (DC) te meten. VDO voltmeters zijn er in 12 Volt en 24 Volt uitvoering. De VDO voltmeters zijn voorzien van LED backlight schaal- en wijzerverlichting. Ze hebben een zeer duidelijke en goed afleesbare Whitete- of Blacke- schaal met rode of Whitete wijzer voor een optimaal contrast. Er zijn 9 verschillende modellen verwisselbare frontringen in 3 verschillende Colouren en 3 verschillende profielen. De VDO Cockpit Vision meters kunnen letterlijk en figuurlijk tegen een stootje. Het front van de instrumenten is stof- en waterdicht met beschermingsklasse IP67. De vibratie bestendigheid is 25G. De maximale omgevingstemperatuur bedraagt 80°C met een kunststof frontring en bij het gebruik van een chromen frontring is dat 70°C. De Cockpit Vision marine serie is voorzien van een doublee anticondens lens. De standard serie heeft een enkele lens. VDO Cockpit Vision instrumenten zijn beveiligd tegen ompoling en kortsluiting. Onderstaand treft u de volledige specificaties aan. Mocht u nog vragen hebben over VDO voltmeters dan kunt u via e-mail contact met ons opnemen. Onze technische medewerkers geven u graag meer advies over het VDO programma en uiteraard ook over onze andere producten op het gebied van scheepstechniek.
VDO Cockpit Vision 332 020 001C specifications:
Sizes and mounting:
| | |
| --- | --- |
| Installation (Hole) diameter and Outside diameter: | 52 mm - 2 1/16 Inch en 59.25 mm - 2 1/3 Inch |
| Installation depth: | 61 mm |
| Locking height with Spinlock nut: | 0.5 mm - 23 mm |
| Locking height with bracket: | Not available |
| Flushmount: | None |
Functionality:
| | |
| --- | --- |
| Voltmeter range: | 18 to 32V DC |
| Sensor signal voltmeter: | 0-32V DC Battery power |
| Accuracy: | Not specified by VDO |
| Connection: | AMP Male blade connector 6,3 x 0,8mm (2x) |
| Illumination connection: | AMP Male blade connector 6,3 x 0,8mm (2x) |
Power supply:
| | |
| --- | --- |
| Operating voltage: | 21.5 - 30 Volt DC |
| Current consumption without illumination: | 63 mA |
| Reverse polarity protection: | Yes |
| Short circuit protection: | Not specified by VDO |
Dial & Pointer:
| | |
| --- | --- |
| Deflection angle: | 90° |
| Dial colour: | Black |
| Dial Illumination: | Backlight 12V - 2 Watt White - Green - Red and 24V - 2 Watt - Optional |
| Pointer: | Red backlight |
| Warning indication: | None |
| Programming: | None |
Design:
| | |
| --- | --- |
| Model: | Cockpit Vision |
| Lens: | Single - Anti-glare |
| Standard bezel: | Triangular black (Threaded ring) |
Protection and standards:
| | |
| --- | --- |
| Front protection class: | IP64 (DIN 40050) - Ozon proof - UV proof |
| Rear protection class: | IP42 (DIN 40050) |
| Relative humidity: | Not specified by VDO |
| Operating temperature: | -30°C to +85°C |
| CE standard: | Yes |
| DNV GL Certification: | Not specified by VDO |
| Mechanical shock 8 hours: | Max: 1G - 25Hz - 2000Hz |
| EMC test: | According to EN 13309 and ISO 13766 |
| Nominal position: | NL 0 to NL 90 - DIN 16257 |
| Housing: | Plastic flame retardant |
OEM (10 pieces) package:
VDO Cockpit Vision 332 020 001C Voltmeter
Spinlock nut
Connecting material order separately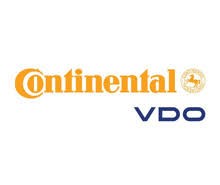 Data sheet
Voltage Measurement range

18 - 32V DC

Warning light

Without

Operating voltage

21.5 - 30 Volt DC

Packaging

VDO Instruments OEM bulk

Application

VDO Engine monitoring

Signal analogue

0 - 32V DC

Serie

VDO Cockpit Vision

Lens

Plastic single nonreflective

Color

Black

IP Class front

IP64 (DIN 40050)

Installation dimension

52 mm - 2 1/16 Inch

Functionality

24 Volt Battery condition

Bezel Interchangeable

Yes - Special tool required

Bezel model

Black triangle

Communication

Analog

Category

Voltmeters

Article status

Discontinued product