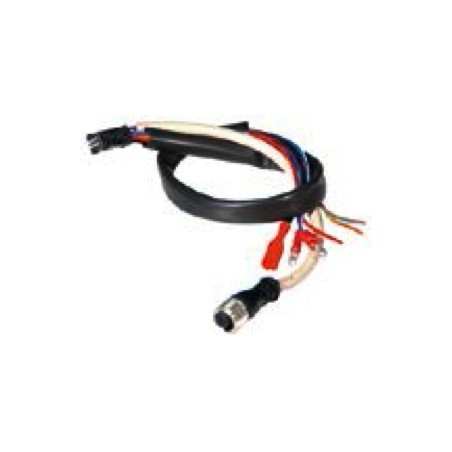  
Veratron ViewLine Adapter Cable 8 & 14-pin
Part-number:
Veratron A2C59513503
ViewLine Sumlog connection cable
With 8 and 14-pin MQS connector
With Triducer connector
See specifications for compatibility
Retail package 1 Adapter cable
Logistical information:
Description Veratron ViewLine MQS Adapter cable 8 and 14-pin:
The Veratron ViewLine instruments have been carried out with a MQS connector system. These connectors are manufactured by Tyco or Hirschmann. MQS connectors are used on a large scale in automotive and industry because of its reliability and simplicity in use. Depending on the ViewLine model a 8-pin or 14-pin connector MQS or a combination of both is used. The ViewLine instruments in Retail packaging are supplied complete with an MQS connection. The Veratron Viewline OEM instruments are delivered without cables. Wire length of the cable is about 50 cm. The Viewline Ammeter is equipped with two extra long wires for connecting the external shunt. Veratron also supplies separate connector blocks and connector pins in order to put together your own cable. This can as a complete connector set or as loose parts.
Veratron A2C59513503 Adapter cable 8- and 14-pin specifications:
Adapter cable features:
| | |
| --- | --- |
| For Veratron ViewLine gauges: | Sumlog with Airmar Triducer |
| Connector: | Hirschmann - Tyco MQS Female 8- and 14-pin |
| Wiring: | 50 cm with standard Veratron colours |
| Detailed information: | See downloads manuals and datasheets |
Tyco Accessories and Tools:
Tyco No. 539635-1 Hand plier MQS Connectors
Tyco No. 1355718-1 Single contacts 0.14 to 0.22 mm2 tin plated
Tyco No. 963729-1 Single contacts 0.5 to 0.75 mm2 tin plated
Tyco No. 539682-2 Tool for hand plier
Tyco No. 1355717-1 Strip 0.14 to 0.22 mm2 tin plated
Tyco No. 928999-1 Strip 0.25 to 0.5 mm2 tin plated
Tyco No. 963715-1 Strip 0.5 to 0.75 mm2 tin plated